My friend Owen Dell's book Sustainable Landscaping for Dummies has just been published. Don't be fooled by the title. This is a serious book for smart people.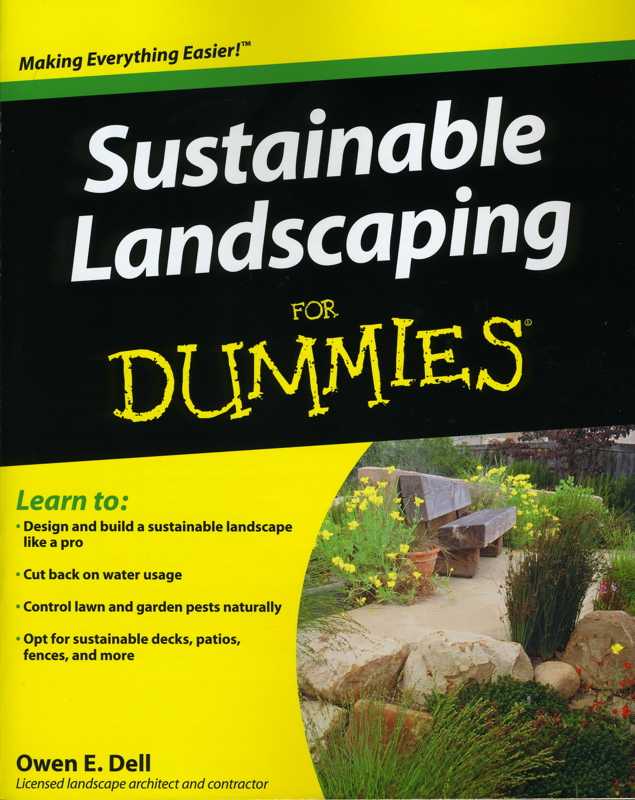 Sustainable Landscaping for Dummies is now available in bookstores and on line at the web site of author and internationally admired authority Owen E. Dell . This long-awaited reference work from one of America's best-known experts in sustainable landscaping contains everything you need to know, whether you're a homeowner interested in transforming your property into a model sustainable landscape or a landscape professional looking to hone your chops to keep up with the latest developments in the profession. Sustainable Landscaping for Dummies will show you how to design, build, and live with an earth-friendly landscape that:
Requires minimal maintenance

Is inexpensive to construct and maintain

Is made from safe, natural materials

Resists pests and diseases

Is drought-tolerant and long-lasting

Supplies wholesome, organic food for you and your family

Provides outdoor rooms for many uses

Is stunningly beautiful

You'll learn how to harvest rainwater and build rain gardens, create a living "ecoroof" on your house, plant a low-maintenance meadow, care for your lawn organically, build hardscape features using natural earth and other environmentally-friendly materials, pave with watershed-friendly pervious surfaces, control troublesome weeds without using chemicals, choose plants that are adapted to your soil and climate, and a whole lot more.

You get all this and more in a fun, easy-to-navigate format

. 

Sustainable Landscaping for Dummies

will keep you chuckling while you learn all the trade secrets of one of America's most respected landscape professionals. Owen E. Dell has been a licensed practitioner of sustainable landscaping since 1972. He is a master landscape architect and contractor who has pioneered many of the important developments in environmentally-friendly landscaping. Here are some of the inside tricks you'll learn only in 

Sustainable Landscaping for Dummies

:

How to make use of "heritage" materials that will last many lifetimes
How to design and build a drip irrigation system that really works
How to make use of the "world's best design tool"
How to cut your maintenance costs by half or much more
How to supercharge your plants by adding one natural element one time only, for pennies per plant
How to virtually eliminate fertilizing by using the "chop and drop" technique
How to develop a Neighborhood Foodshed in your community

Owen shares his lifetime of professional experience in Sustainable Landscaping for Dummies. This is information formerly available only in Owen's immensely popular classes and workshops, or by spending thousands of dollars for a landscape design. Sustainable Landscaping for Dummies will pay for itself the first time you use it. Readers are already in love with Sustainable Landscaping for Dummies. Author Thomas Christopher of the New York Botanic Garden writes, "Owen has broadened his focus to include the conservation of all our natural resources. And yet if his subject is serious (nothing less than the preservation of the planetary ecosystem), Owen's tone in this volume is blessedly unsanctimonious. He assumes no previous knowledge of gardening on the reader's part— this is Sustainable Landscaping for Dummies, after all—but there's plenty of new information here for the expert gardener, too. Above all, this is a practical book. Owen shares with the reader the routines he has developed as a professional for organizing landscape redesigns and makes them easy for a novice to follow. He offers down to earth advice not only on how to make your personal space more attractive and environmentally responsible but also on how to accomplish this at a price you can afford, and at a pace that suits your schedule. Sustainability is a new movement in gardening, and it has badly needed a manifesto. This book fills that niche. So get smart and get Sustainable Landscaping for Dummies." Horticulturist John Dotter of Appropriate Horticulture Associates writes, "Last night I surveyed, read and savored the content of your new book, Sustainable Landscaping for Dummies. Your friendly and humor-filled choice of words is truly unique in the field of horticultural reference works. Any future teaching by me about landscape gardening will use your book as it's 'Bible' to present a new and urgently needed paradigm for stewardship of the earth. After reading your book, how can a person garden any other way?" Landscape architect Billy Goodnick has this to say, "Owen has just had a very important book published. It needs to be read, embraced and acted upon by many, many people. The book starts by making sure we know how the word 'sustainable' fits with landscaping. It's patently simple—strive for a garden that acts as a natural system and needs little help from you once it's up and running. By the time you're done with this section of the book you'll smack your forehead and mutter 'of course' because he makes it seem so obvious. Onward the author forges, discussing the virtues of good design, working safely, and tricks the pros use. There's a strong emphasis on managing water, the most precious resource for us in southern California. Owen also tackles the complex subject of hardscape (all the stuff in a landscape that isn't plants), showing how elegant spaces can be created with earth-friendly materials and old stuff we can put back to use.  Of course there's lots of information about plants, starting with the idea that plants aren't just for decoration—they can DO something, like provide habitat for birds, reduce energy consumption and feed you and your family. The greenery section even zooms in on ways to make container gardening more sustainable. I could go on, but I'm running out of space—just get the book." To order Sustainable Landscaping for Dummies, visit www.owendell.com or your local independent bookstore. TO GET A SIGNED COPY, ORDER FROM OWEN DELL.COM.